Tata Global eyes buyouts, to scale up small operations
Tata Global Beverages is hungry for growth and would pursue acquisitions along with organic scaling up of many of its several small branded operations across the globe.
"The growth in domestic operations has to be through a mix of product portfolio through organic and inorganic process. Scale in domestic market is very critical and that's what we are focused on," chairman N Chandrasekaran said at the annual general meeting of the company.
He, however, denied any immediate proposal before him to restructure the food FMCG businesses of the group and bring them under Tata Global Beverages.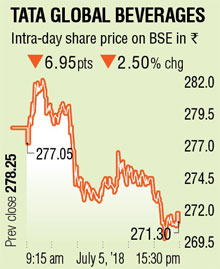 "Tata Group has a presence in multiple different consumer segments. Proposals and the ideas get discussed. These proposals sometimes come from investment bankers, sometimes internally. There is no concrete proposal. Whenever there is concrete proposal in front of the Board, it will deliberate on it," the chairman told shareholders responding to queries on a report about Tatas planning to separate salt and branded lentils businesses of Tata Chemicals and merging them into TGBL.
Long languishing partly because of stagnant tea market and partly because of failure of its value added businesses to achieve scale and profitability, Tata's beverages business was ignored by investors as reflected by its non-performing scrip on the bourses.
All that changed when Chandrasekaran came as its chairman who immediately implemented a strategy to exit several failing overseas businesses in China, Russia and Sri Lanka.
The focus now is to achieve scale for its remaining global businesses and some of its domestic non-tea businesses.
"The strategy is to have subsidiaries which can be scaled up and are profitable. If we can't scale up and be profitable we should exit," he said, adding that TGBL currently has about 43 subsidiaries.
While domestic market share in tea is at a comfortable 20%, for coffee it is just about 3-4%, the chairman said.
"The company has been launching products in areas like health and fitness such as Super Green Tea or squash in the UK. All of these have to be scaled up as traditional black tea is under stress. The focus going forward is to capture growth in the domestic market. Even through we are number one in India in volume terms, but not in value terms," he said.
BREWING STRATEGY
The focus now is to achieve scale for its remaining global businesses and some of its domestic non-tea businesses  
The growth in domestic operations has to be through a mix of product portfolio through organic and inorganic process