Report: Cowboys DB facing felony firearm charge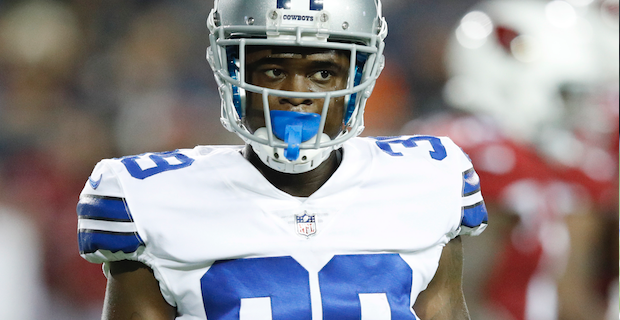 An already tumultuous summer for the Dallas Cowboys has taken yet another unfortunate turn.
According to The Dothan Eagle, second-year cornerback Marquez White is now facing a felony charge based upon an incident that occurred in October 2017. The Cowboys' sixth-round pick one year removed was reportedly indicted on June 7, stemming from an allegation he brandished a firearm at a driver he told police became aggressive on the Dallas North Tollway in Plano, TX, after the accuser began following him closely while shouting racial epithets and reaching for what White perceived to be a weapon in his glove compartment.
Feeling threatened in the moment, the former Florida State standout admits he flashed his firearm to deter the driver — resulting in White then being followed to his home, where police were called. There were no arrests made at the time, but White discovered a felony warrant was issued later. In a scathingly blunt statement, White states he believes "strongly that this a personal attack on my image as well as the Star". Toby Shook, his defense attorney, has already made it known the firearm in question is legally owned.
White was released from the June indictment on $7,500 bond.
What this means for his spot with the Cowboys is anyone's guess, but it does bode well for him that he remains on the roster only days ahead of training camp and months after the incident took place. If his side of the report holds true, White may not come out looking like the bad guy in this ordeal — although some will condemn him for showing his firearm. Even if the Cowboys don't release him due to these proceedings, there's also the matter of NFL watchdog Roger Goodell, who has been highly questionable when it comes to ruling on personal conduct matters as it relates to America's Team.
Running back Ezekiel Elliott was sentenced to a six-game suspension in 2017 based upon unproven domestic violence allegations by an incredible ex-girlfriend while, contrarily, Tampa Bay Buccaneers' quarterback Jameis Winston was handed only a three-game sit-down after confessing to a sexual assault allegation by his Uber driver.
The Cowboys can ill-afford to lose bodies at the cornerback position for any amount of time in 2018, and White is one of the more promising talents on the roster. Looking to finally climb off of the 10-man practice squad he was relegated to his entire rookie season, the release of veteran Orlando Scandrick gives him the chance to do just that. The Cowboys' front office has not issued an official statement on the charge against White, but even if he is exonerated in the court of law, that has proven to mean nothing in the court of public opinion and/or the NFL front office.
And now, we all wait.